Note: Thank you for your support, our gourmet meal ordering is closed. But you can continue to support by doing an outright donation at https://www.giving.sg/stjohnshomesg/18oct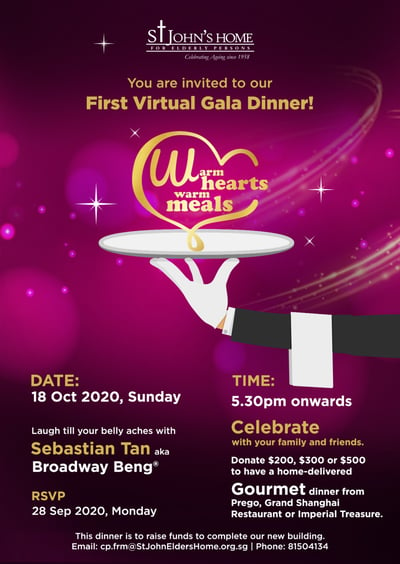 I trust you, your family and friends are keeping safe during this COVID-19 crisis.
We have had to cancel our Annual Gala Dinner because of the pandemic, planned for September this year. Last year's Dinner boosted our Building Fund by almost $520,000.00
As we still need $3.4 million to complete our new Home, we are inviting you to join us in our fundraising event to support our building fund. We expect construction work to resume in September 2020, after it was suspended on 6 April due to COVID-19. We now look forward to moving into our new Home in June 2021, instead of January 2021.
Celebrate and connect with your family, friends and business associates by warming their hearts with a gourmet meal and top-of-the-class entertainment, by the effervescent entertainer, Sebastian Tan. The meals will be prepared by notable restaurants in Singapore and delivered to the comfort of your home. Diners can access the entertainment through a website link which will be provided in a note with the meal. Here is the gourmet menu and donation amount.
We would be grateful if you could send as many meals as you can, to your family, friends and business associates, for the benefit of our elderly residents. Your outright donations are also welcome.
We hope to receive your donations and meals selection by 28 September 2020, Monday. If you have questions, you can call / WhatsApp 81504134 or email to Monica at cp.frm@StJohnEldersHome.org.sg.
As we are an Institution of a Public Character (IPC), donations qualify for tax benefits at 250% of the amount donated.
- Woon Wee Yim, Chairman.
I don't want any meals but am happy to donate to your Building Fund.

I want physical copies of the Donation Form and Menu.
Please email completed form to: cp.frm@StJohnEldersHome.org.sg Or Post to 69 Wan Tho Avenue, Singapore 347601