St. John's Home for Elderly Persons has been blessed by many generous donors. As a non Government-subvented Charity, donations form the main income source for our Home. In fact, for the year ending 2020

,

m

ore than 62% of our Home's income come from the generosity of donors.
St. John's Home regularly appeals for donations through online platforms like Giving.SG and Give.Asia. Our Home also organises one major fundraising event annually. This being the Gala Dinners held once a year for the past seven years, with the last, in 2020, being a virtual event due to the limitations brought on by the pandemic.
There are also many groups which organise fundraising campaigns in benefit of St. John's Home for Elderly Persons. There is a multiplier effect when someone else, other than the charity itself, appeals for a donation. For the donor to part with his money, it is often said that donations are made because of who the fundraiser is, with the cause as a second consideration. Besides the obvious monetary benefits for the charity, the awareness of the cause brings in immense intangible benefits as well.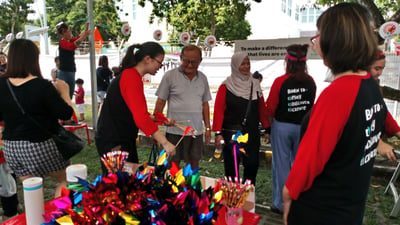 Fundraising Carnival by Preschool-By-The-Park in 2019. See more photos.
From idyllic kampong to fast cars
Our Home is located in the heart of Sennett Estate. A lovely neighbourhood without "NIMBY" syndrome. The Sennett Estate Neighbourhood Committee pulls in their residents and pledged more than $150,000 to support the building of our new Home. This brings the term "Kampong Spirit" to a new high.
Preschool-By-The-Park, a preschool in Singapore, had organised at least two carnivals for us. Parents and children came to the carnivals and enjoyed food and games while supporting a common cause.
Friends of Porsche, an interest group made up of owners of cars of the same name, ran a fundraising campaign among their members, in addition to giving our elderly residents a fun ride.
We also had youth selling T-shirts, a running group ploughing the distance, a corporate with staff donating their unused annual leave days, and many more. For these groups, the "how-to" fundraise was only limited by their own imagination.
Even our own elderly residents chipped in with their self-made fundraising video which went viral in 2018. This brought in a whopping donation amount of more than $500,000.
It takes a village to raise a child, AND...support the elderly. St. John's Home for Elderly Persons would not be able to continue providing for our elderly residents without the support from the public.
Would you be our next fundraiser? We thank you in advance!
Start a campaign here: https://www.giving.sg/stjohnshomesg
Talk to us here: https://www.stjohneldershome.org.sg/contact-us
Whoever is kind to the poor is lending to Yahweh who will repay him the kindness done. <Proverbs 19:17>