Before moving to its new building on 1 Willow Avenue, St John's Home had been operating at 69 Wan Tho Avenue since 1958. Willow Avenue and Wan Tho Avenue are streets located off Upper Serangoon Road, sited within Sennett Estate, an area rich with history.
Wan Tho Avenue was named after Mr Loke Wan Tho (1915 – 1964), who was a cinema magnate and founder of Cathay Organisation. He, together with many individuals like Mr Lee Kong Chian, Shaw Brothers, Mr Aw Boon Haw (Founder of Haw Par) had donated money towards the building of St John's Home in 1957. Mr Loke was known for his philanthropic work. Unfortunately, Mr Loke and his wife died in a plane crash in 1964.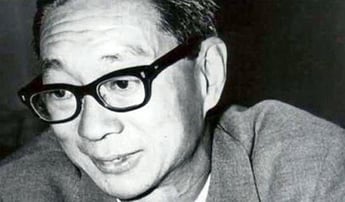 Image: Mr Loke Wan Tho (Photo from Wikipedia public domain)

The Upper Serangoon area was well known even in the early 1900s. In those early years, a large cemetery was located along Upper Serangoon Road, just northwest to the current site of St John's Home. During this time, the wealthy Alkaff family owned a lot of land in the area. To the west of the cemetery, Syed Shaik Alkaff created a large Japanese-styled garden, called the Alkaff Lake Gardens in 1929 for public enjoyment. It had man-made lakes, hills and was a popular attraction then. During World War II, the garden was closed and left neglected. You can view pictures of this lost beautiful garden on this local blog.
A historical map in 1954 taken from Onemap.sg (see image 2) showed the Sennett Estate, bounded by 2 major roads, Upper Serangoon and Macpherson roads. The Bidadari Cemetery can be seen north of the site, just above the historic Alkaff mosque built by the Alkaff family in 1932. The mosque is still present now, but the cemetery was exhumed by 2006 to make way for residential housing (as seen in image 3 below). Several prominent Singapore pioneers were buried in this cemetery, like Dr Lim Boon Keng who was a well known Chinese leader, one of the founders of Singapore Chinese Girls' School, and Mr John Laycock, who started one of the earliest law firms in Singapore. Mr Lee Kuan Yew had worked in his firm after graduating from Cambridge university.
Image 2 below: Historical Road map of Sennett Estate in 1954. OneMap.sg https://www.onemap.gov.sg/hm/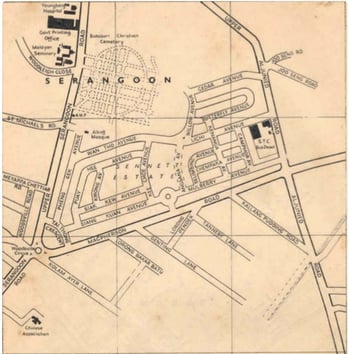 You can see the large area occupied by the Bidadari cemetery in the north with Alkaff mosque and Wan Tho Avenue south of the cemetery. Back in 1954, Wan Tho Avenue was not directly connected to Upper Serangoon Road unlike the present.
Image 3 below: Road map of Sennett Estate. Onemap.sg 2021. St John's Home is located at the junction of Wan Tho Avenue and Willow Avenue. You may notice that the old cemetery is now the location of Alkaff housing estate (HDB flats).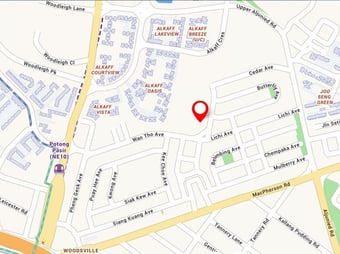 Why is this area called Sennett Estate?
In 1949, Alkaff Lake Gardens and surrounding lands were sold by the Alkaff family to Sennett Realty Company for $2 million dollars. Sennett Realty Company was owned by Mr C.W.A Sennett, who used to be the Commissioner of Lands. After his retirement, he established the property development firm and proceeded to build residential houses in the area. Sennett Estate was thus born. He had named streets after popular trees like Lichi, Chempaka, Mulberry.
Seven other roads in Siglap (Sennett Road, Avenue, Close, Drive, Lane, Place and Terrace) were named after Mr Sennett.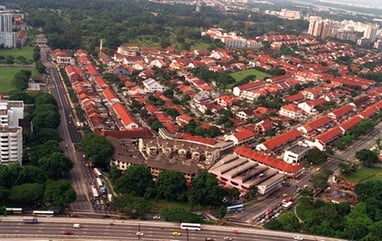 Image 4 above: Aerial view of Sennett Estate taken in 1996 (by Tan Suan Ann/Photonico.asia), bounded by Upper Serangoon road on the left, and Macpherson road on the right.
The greenery in the background used to be Bidadari park, the site of the old cemetery which was exhumed by 2006. Tall HDB flats have now taken over the park's location. The historic Masjid Alkaff Mosque minaret tower can be seen, with Wan Tho Avenue cutting across. Much of Alkaff gardens became the site for Willow Avenue Secondary School. Cedar Girls' Secondary School later took over the school location and occupies the site to this day.
Sennett estate continues to evolve, much like the fast-changing cityscape of Singapore. In 2021, St John's Home moved from its old building into a brand new one along Willow Avenue. Even as buildings and roads change, we hope the memories and stories will remain.

Contributed by Dwayne Tan

Click here for references