My parents and siblings have always been outdoor enthusiasts. Unlike them, I did not like going into the nature when I was younger. However, as I grew up, I started to turn to walking outdoors for relaxing, keeping fit and spending time with my family. Slowly, I began to include hiking and walking outdoors as part of my routine each week. I enjoy exploring new parks in Singapore.
Here, I will share my favourite nature spots in Singapore.
1.

Dairy Farm Nature Park
2.

Henderson Waves (The Southern Ridges)
3.

TreeTop Walk (MacRitchie)
This is my favourite nature spot of all time. It is close to my house but far away from the main – guaranteeing visitors good air quality. This is a nature spot I have been frequenting during the Circuit Breaker period, as it serves as an escape from being cooped up at home all day. There are two quarries located within the park – the Singapore Quarry and the Dairy Farm Quarry. These two quarries are located at a distance from each other, and I enjoy taking a scenic walk from one quarry to the other quarry.
Aside from enjoying nature, located near the Singapore Quarry, there are also rock-climbing activities conducted at the park.
This area is also home to wild boars, and many stray cats! If you see a crowd of people taking photographs of something, it is probably one of the two.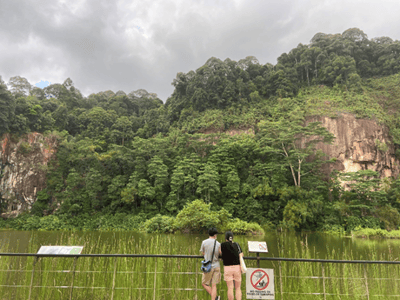 2. Henderson Waves (The Southern Ridges)
The structure, set within The Southern Ridges, and dubbed as the "highest pedestrian bridge" in Singapore. Henderson Waves offers a way for visitors to cruise through the forest with an elevated view. What makes Henderson Waves so special are the man-made trails that cut through the greenery, offering visitors an alternative experience with nature, so unlike other trails which requires us to trek within the forest. It is also known by many to offer a bird's eye view of the city. I especially like how the trail connects Mount Faber Park to Telok Blangah Hill Park, linking different nature spots with a single trail.
One thing I did not prepare myself for my recent hike was the huge number of monkeys along the walk! The monkeys sat perched on railings surrounding the narrow walkways humans walk on, not the slightest bit intimidated by us.
Anyone who sets foot on the MacRitchie Trails would surely be making their way to the popular TreeTop Walk. It is a 250m suspension bridge which offers a bird's eye view of the forest canopy, and is a popular photo-taking spot.
These are the places I recommend for a good hike, and I hope that some of them caught your interest. I cannot wait to explore the next trail!
This post was originally posted on 8 July 2020.
Disclaimer: The views and opinions expressed in this article are those of the authors and do not necessarily reflect those of St. John's Home for Elderly Persons.
St John's Home for Elderly Persons is not a government-subvented Home and depend largely on the public's generosity to enable us to continue our work as a Registered Charity.
Please donate generously: https://www.giving.sg/stjohnshomesg