As the Chinese proverb goes, "家有一老,如有一宝", meaning, it's like having a treasure when you have an elderly at home.
Learning and acquiring wisdom do not only happen in school. Compassion, resilience, selflessness are learnt from examples and role models. If we take time to observe the people around us, the elderly among us can teach us many things in life where the structures of a school setting will not teach.
Five students from the School of Business, Temasek Polytechnic, came together to share about connecting with their "treasure".
This is part 1 of 5 on what these teenagers learnt from their grandparents.
More than a Love Letter (contributed by Denise Quek)
Every Chinese New Year, our family and relatives would receive a Milo tin from our grandmother, ah-mah. However, instead of the Milo drink powder, inside those tins were rows of delicate egg rolls, also known as "love letters"!
As children, both my brother and I were cared for by ah-mah while our parents were at work. Although the memories of my childhood are fuzzy, I can vividly remember her back view and the fragrance of the ready-made love letters while she was making the love letters.
I would often sit behind ah-mah to watch and try to help in the process of making the love letters. A loud sizzle could be heard as she carefully poured a scoopful of batter onto the hot pan of the egg roll maker. When the batter turned to a thin golden brown crust, it would be scraped off the maker to let it cool down slightly before it was quickly rolled up. This process would then be repeated to fill up a tin.
Ah-mah started making love letters for sale when she was younger to financially support the family. With the income from the yearly sales of love letters, she would buy new appliances and do simple renovations to our home to improve our living conditions.
Although sales were important, ah-mah would also make extra tins of love letters as gifts to families and relatives.
The whole process of making love letters was not only time consuming but had also caused ah-mah backaches from prolonged sitting, though she never complained about it. As a child, I did not think much about why she chose to make love letters instead of buying ready-made ones from the stores. However, as I got older, I learnt that behind each tin of love letters, was the love that ah-mah has for us.
Ah-mah is still actively making love letters, but now, it's just for the joy it brings her. It makes her happy, knowing people appreciate her love letters.
From ah-mah, we have learnt not only how to make this traditional snack, but most importantly, to be resilient in getting through tough times, and to have selfless love for our family.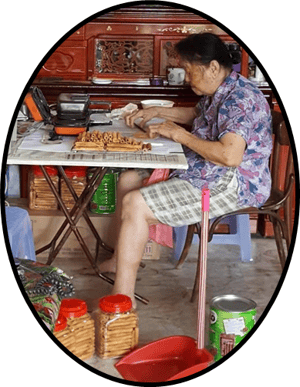 Read other parts from this series:
Part 2: A selfless caregiver and role-model
Part 3: Showing compassion in our daily actions
Part 4: Patchwork and patience
Part 5: Spending time, connecting ties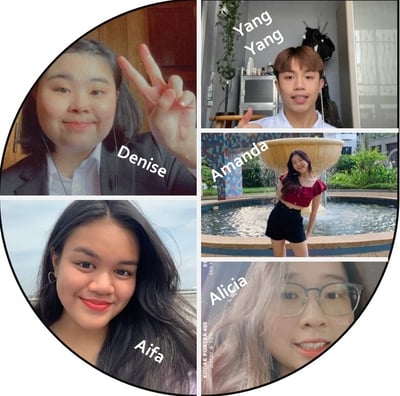 Student contributors from Temasek Polytechnic, School of Business
Disclaimer: The views and opinions expressed in this article are those of the authors and do not necessarily reflect those of St. John's Home for Elderly Persons.
St John's Home for Elderly Persons is not a government-subvented Home and depend largely on the public's generosity to enable us to continue our work as a Registered Charity.
Please support our Home by donating generously: https://www.giving.sg/stjohnshomesg